McMinn County, Tennessee has a strategic location for business along I-75 between Knoxville and Chattanooga. It's approximately 430 square miles is perfectly situated in the center of the regional amenities of either metro area, as well as the natural beauty of the foothills of the Smoky Mountains. That location, coupled with vibrant entrepreneurial opportunities, skilled workforce and low cost of living, place McMinn County high on any list for wonderful places to work and live.
Incorporated areas within McMinn County include the City of Athens, Town of Calhoun, Town of Englewood, City of Etowah, and the City of Niota. Athens is the largest incorporated area and a Micropolitan Statistical Area that is part of the larger Chattanooga/Cleveland/Athens Combined Statistical Area.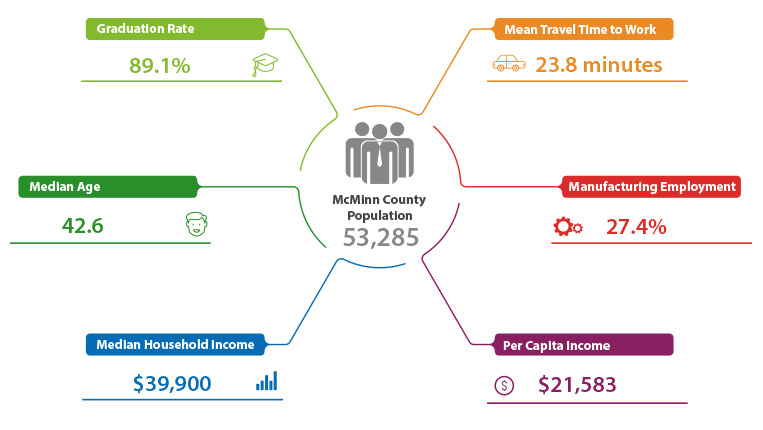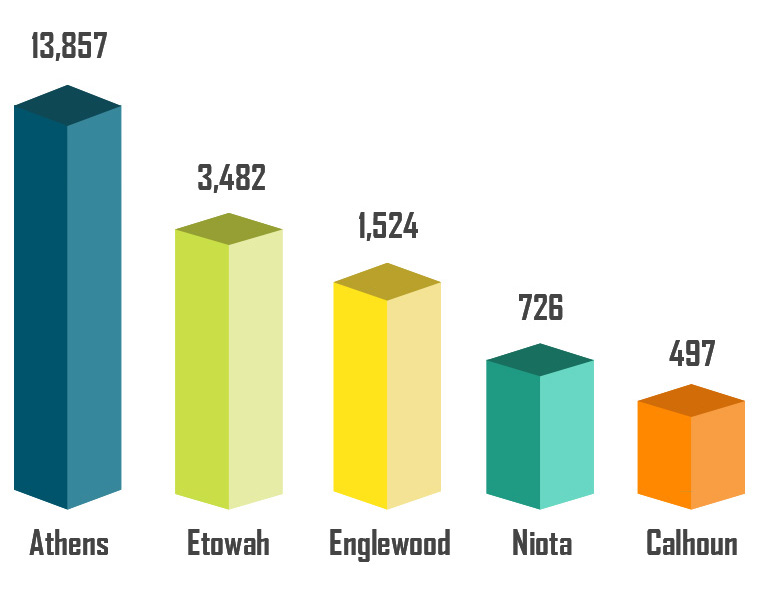 For more details about our county, cities and towns, please contact McMinn County Economic Development Authority.
McMinn County
Population
Population
Growth Rate
0.38%
Housing & Income
Income Projection
Median Household
$47,252 $52,017
Average Household
$62,029 $69,328
Per Capita
$24,574 $27,413
Workforce
2021 Manufacturing Businesses
Businesses
69
Employed
3,387
2021 HealthCare/Social Assist
Businesses
148
Employed
3,089
2021 Retail Trade Businesses
Businesses
303
Employed
2,258
2021 Wholesale Trade Businesses
Businesses
48
Employed
2,059
2021 Accommodation/Food Service
Businesses
102
Employed
1,564
2021 Food Service/Drinking Estab
Businesses
83
Employed
1,420
Average Commute Time
22 min.
Resident Commuters
14,080
Non-Resident Commuters
6,346