Location is the key to doing business! In McMinn County, companies are a convenient 45-minute drive from the customer and supply bases of Knoxville and Chattanooga, with the larger metropolis areas of Atlanta and Nashville less than two hours further. Businesses serving these major metropolitan areas can save time and money by opening a location in the center of it all.
Fast and reliable transportation can be expected for receiving supplies and shipping finished product due to the excellent highways and interstates passing through the area. Other world-class transportation options exist in rail, air and water transportation.
Driving: Highways & Interstates
A network of interstates are accessible via Interstate-75 in McMinn County, bringing major markets throughout the southeastern U.S. within reach of area businesses. In addition to top rated interstate systems, McMinn County is also connected to many U.S and State Highways:
I-75 is a major north/south connector that runs through McMinn County connecting to Knoxville and Chattanooga in less than a 60 minute drive and Nashville and Atlanta in 2.5 hour drive.
I-40 is a major east/west connector located within a 30 minute drive of the county's industrial properties.
I-24 is an east/west connector located less than a 60 minute drive of the county's industrial properties.
US Highway 11 is a four-lane federal highway through McMinn County, connecting the community with Knoxville and Chattanooga.
US Highway 411 is a four-lane federal highway through McMinn County, connecting the community with Knoxville and Atlanta.
State Highway 30 is a four-lane highway through McMinn County, connecting the Interstate Industrial Park and North Etowah Industrial Park.
State Highway 305 connects Mt. Verd Industrial Park with downtown Athens.
State Highway 68 connects the northern portion of McMinn County with the 75 Regional Commerce Park.
The Tennessee Department of Transportation has a broad collection of additional maps for McMinn County cities, emergency services and traffic.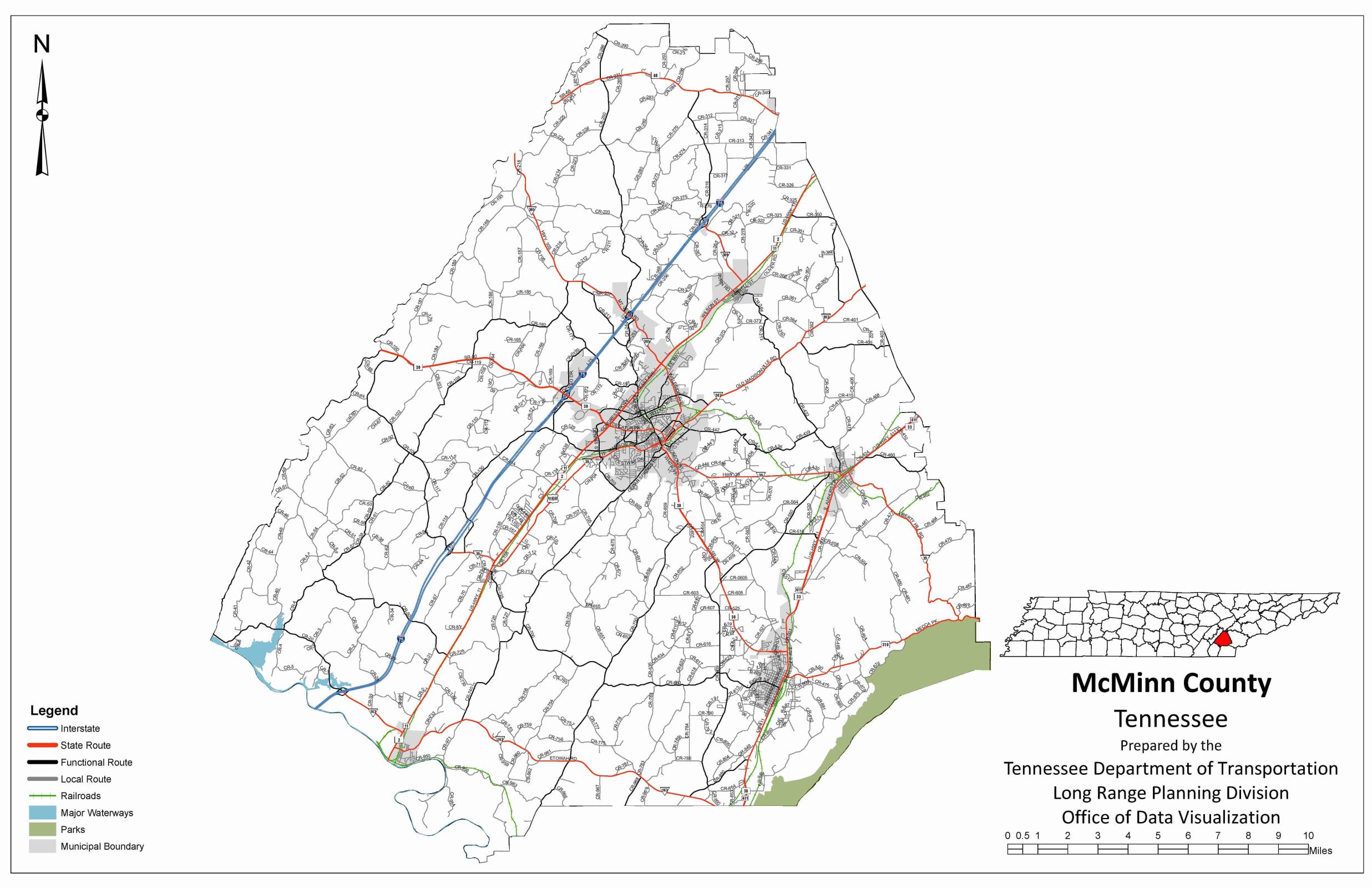 ---
Air
Global markets are at the doorstep of McMinn County businesses through a number of readily accessible regional and international airports. The following facilities provide safe, reliable commercial and freight airline transport:
McMinn County Airport (KMMI) benefits many local industries between Chattanooga and Knoxville with its convenience for easy access/departure and freight transportation. The 6,450 by 100 foot asphalt runway is an important economic resource, as 75% of travel through the airport is business-related.
Knoxville's McGhee Tyson Airport (TYS) is under an hour's drive from Athens. The airport handles commercial airline service, air cargo operations, military operations, corporate aviation, charter flights and recreational flights. Major airlines such as Allegiant, American Airlines, Delta, Frontier Airlines and United offer service to more than 20 nonstop destinations throughout the U.S.
Air service can also be found at Chattanooga Airport, an hour's drive to the southwest of Athens. Major airlines such as Allegiant, American Airlines, Delta and United provide daily nonstop departures to ten cities.
International destinations can be accessed via Atlanta International Airport (ATL) and Nashville International Airport (BNA), each only 2.5 hours by car from McMinn County. Both airports offer service to more than 70 destinations worldwide.
---
Rail
McMinn County businesses are served by two Class 1 main rail lines. CSX operates a rail yard five days per week in the City of Etowah, serving local business including North Etowah Industrial Park tenants. Norfolk Southern serves industrial properties in Athens, Calhoun, Niota and Riceville.
---
Water
Inland Ports
The Hiwassee River is the southern boundary of McMinn County and is navigable year-round as it flows into the Tennessee River in neighboring Meigs County. The Tennessee River is a part of the Tennessee Tombigbee Waterway connecting east Tennessee with 21 states, the Mississippi River, and the Great Lakes. The waterway shortens the shipping trip between Tennessee and the Gulf of Mexico by 882 miles, enabling products to arrive at their Gulf destination eight to nine days earlier. 
Two inland ports are within a 30 minute drive of most McMinn County industrial properties. CSX Appalachian Regional Port, operated by the Georgia Port Authority and CSX, is an intermodal facility and a direct link to global markets via the Port of Savannah. Fort Loudoun Terminal offers either barge or rail on-loading and off-loading operations on the Tennessee River.
Ocean Ports
At just under 400 miles away, the Port of Savannah is the closest seaport to McMinn County and the largest single container terminal in North America. The Ports of Charleston, Mobile and Jacksonville range between 400 and 500 miles distant.