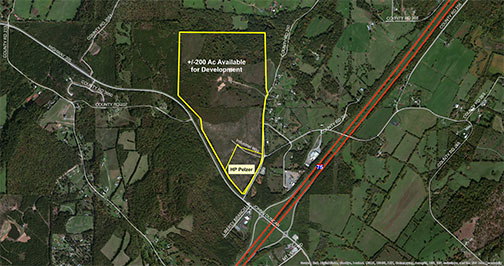 Mt. Verd Industrial Park
Adjacent to Interstate 75 (Exit 52) at Highway 305

Athens
, McMinn
, TN
37303

US
Financials
Sale Price: --
Lease Price: --
Terms:
Sq. Ft.: --
Acres: --
Tax: --
Tax Year: --
Features
In City Limits
Building
Sub-dividable
Expandable
Land
Build To Suit
Shovel-Ready
Industrial Park
Business Park
100-Year Flood Plain
Phase 1 Environmental Audit Complete
Utilities
Water
Sewer
Electric
Natural Gas
High Speed Telecom
---
Broker Info
Lindsey Ferguson
McMinn County Economic Development Authority
9 E. Madison Ave., Suite 201, Athens, TN 37303
Office: 423-745-1506
Lindsey@MakeItInMcMinn.org
Details
Located in the corporate limits of the City of Athens, McMinn County, Tennessee.
Publicly owned 223?acre industrial park with 200 contiguous acres available for development.
The site is located less than 1 mile off Interstate 75. Interstate 40 is located 32.5 miles from the Mt. Verd Industrial Park site and Interstate 24 is 51 miles from the site.
Commercial and cargo airports that serve the area include McGhee Tyson Airport 54 miles and Chattanooga Lovell Field Airport 50 miles from the proposed site.
International airports: Atlanta Hartsfield Airport 169 miles from site and Nashville
International Airport 184 miles.
General Aviation Airport: McMinn County Airport is located 10 miles from the site.
Intermodal/Inland Port: Appalachian Regional Port is located 52.5 miles from site. The
Appalachian Regional Port is a direct rail service from the Port of Savannah, GA.
Asking price $25,000/acre negotiable.
Zoned for heavy manufacturing.
Topographic map with 2?foot contours enclosed.
Environmental Phase I Assessment complete.
Geotechnical Study complete.
Threatened & Endangered Species Study Complete.
Grading plan for Lot 6 complete.
Utilities:
Athens Utilities Board is the distributor of all utilities to the site.
Substation 10 MW at 12.47 KV 3 Phase current capacity with growth opportunities
8?inch Natural Gas Line, 50 psi
8?inch waterline.
12?inch sewer line.
Fiber ready served through either Athens Utilities Board (AUB) or AT&T.
Park Tenants:
Posted On: 02-05-2022
Last Updated: - 5 months ago