McMinn County EDA Receives Tennessee Board of Regents Philanthropy Award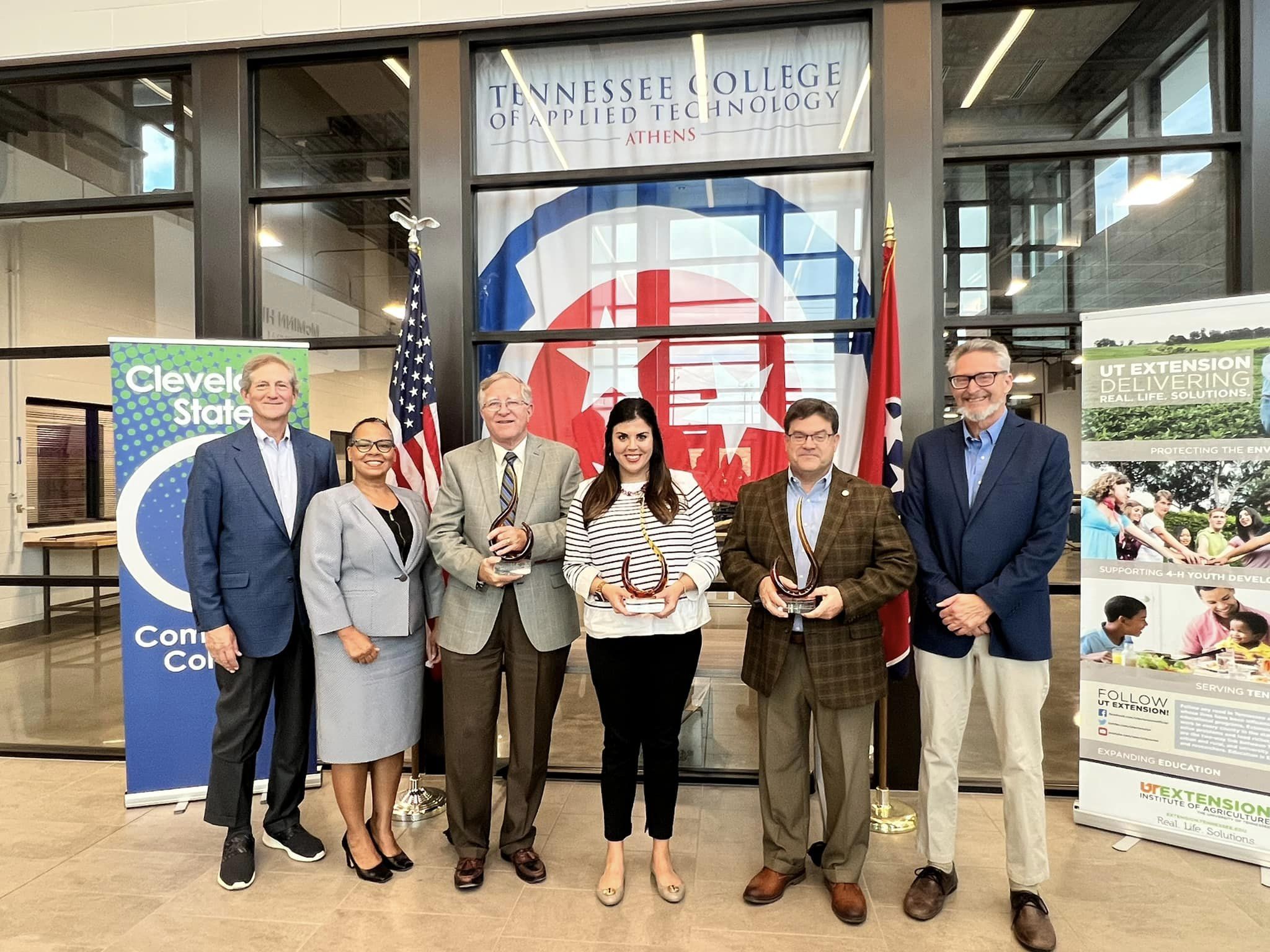 The Tennessee Board of Regents awarded the McMinn County Economic Development Authority, McMinn County, and City of Athens with the Regents Award for Excellence in Philanthropy.
Each year only four Regents Awards are given to those who demonstrate:
Generous donation of time and resources to the Tennessee Board of Regents and its institutions;

Active promotion and support of higher education;

Exceptional civic responsibility and integrity;

Ethical leadership in philanthropy; and

Influence on volunteers to become involved in fundraising.
This year the Tennessee Board of Regents selected the three organizations as co-winners of the Regents Award for efforts on the McMinn Higher Education Center (MHEC).
McMinn Higher Education Center opened in 2021. The facility houses three of McMinn County's higher education institutions: Cleveland State Community College, Tennessee College of Applied Technology, and University of Tennessee Agricultural Extension.
MHEC represents a collaborative community effort to further advance workforce development as well as post-secondary educational opportunities in McMinn County.
"To see three educational entities under one roof working together enhance educational opportunities and promote jobs throughout this region…that is definitely a unique partnership. Given the nature of our workforce needs, it no longer makes sense to work in silos. Collaborations such as this serve the community best. This center is a great example of how we can coordinate education, workforce development, and training to meet the needs of our community. All of this is a direct result of hard work, innovation, generosity and dedication," Dr. Ty Stone, Cleveland State Community College President.
"With over 32% of our workforce in manufacturing, the importance of MHEC is imperative for our community. This facility allows us to continue to develop our pipeline of a skilled workforce for our industrial employers," Lindsey Ferguson, McMinn County Economic Development Authority Executive Director.